The disruption and uncertainty permeating Australia's economy as a result of the COVID-19 pandemic will mark the local housing market for some time to come. Demand in the market is always a challenge to predict and even more so given the rapid change in the factors that traditionally influence the market in recent months.
During the early stages of the pandemic, economic recovery was widely predicted to be shaped either as a U or, by a few optimists, a V. Given we now have a better understanding of the virus' behaviour and impact, the recovery is likely to be shaped more as a sawtooth, a period of bumpiness followed by a gentle uptick.
These bumps aren't expected to be enough to derail the gradual upward trajectory but will present challenges in particular geographies or sectors of the economy. In Australia, we've seen the pandemic result in a firm close on international borders, significant domestic border restrictions and wide-spread social distancing policies. Currently, the Victorian capital city of Melbourne is experiencing a significant second outbreak that has resulted in a full lockdown and curfews.
From a housing perspective, the impact of this economic shock is being felt most in the rental market. Rents in Australia's major capital cities are among the highest in the world compared to average salaries, however if we take Sydney as an example, rents have already fallen back to 2013 levels. Not only are advertised rents falling, but the stock of rent paid – as measured by the Consumer Price Index – fell by 1.3 per cent in the June quarter, the largest fall since the series started in 1972. In part this reflects rent deferrals, which according to The Reserve Bank of Australia have been successfully negotiated by around 5 per cent of tenants since the end of March. More broadly, lower demand from foreign students and immigrants, a weakening labour market alongside an increase in supply as short-term holiday rentals pivoted to longer term rent have impacted.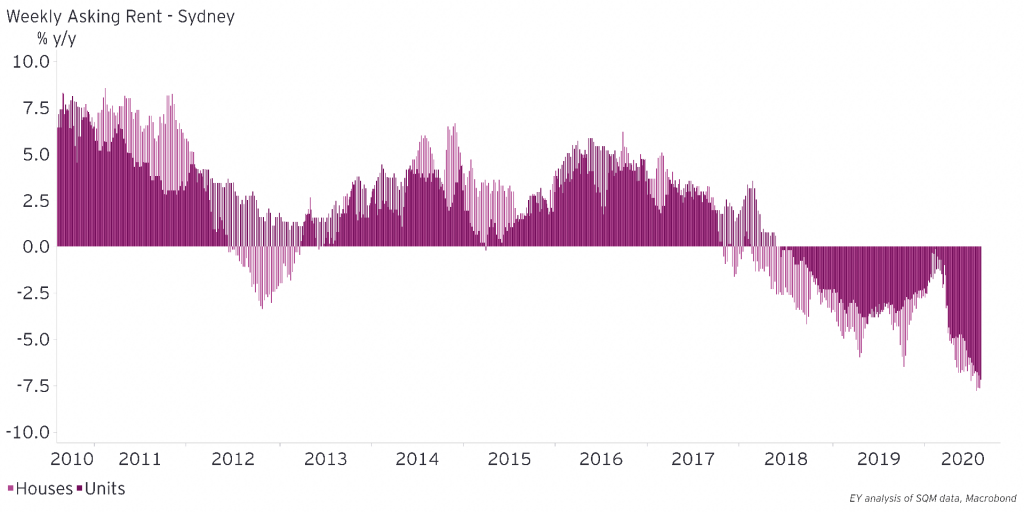 Rents are falling amid lower demand and rising supply
In contrast, house prices have performed better than expected with an orderly correction. Since mid-2019 prices have been rising but have dropped 1.6 per cent in the three months to July 2020. Despite this, prices are still just over 7 per cent higher than 12 months ago.
For most countries, population growth is a key foundation of economic activity, and Australia is no exception. With a relatively small population, migration has always been essential to national population growth, making up two-thirds of Australia's growth, which has been running at around 1.5 per cent per year. But international border closures mean the growth rate will slump to around 0.7 per cent per year, the slowest pace since the First World War. Put simply this translates as less demand for housing, be that for rental or sales.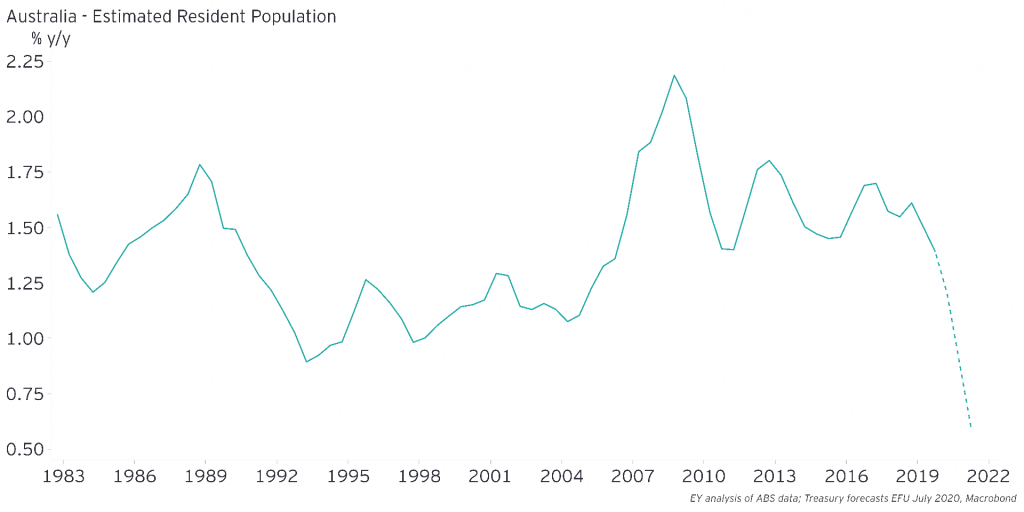 Australia's population growth is set to be the slowest in over 100 years