What are REITs?
REITs are collective investment schemes that invest in a portfolio of income generating real estate assets. The assets of REITs are professionally managed and rental income generated from assets are distributed back to unit holders. In Singapore, REITs distribute a minimum of 90% of the income as dividend back to unit holders in order to enjoy tax concession. REITs can serve as an alternative to investing in physical properties as it is an income generating asset class.
Singapore REITs entered into the 16th year since the first listing of Capitaland Mall Trust on SGX in July 2002. Singapore-listed REITs offer investors access to a diversity of real estate assets including retail malls, office buildings, industrial properties, hotels, serviced apartments and hospitals. Units of listed REITs are listed on the Singapore Exchange (SGX) and are bought and sold like other listed securities. There are currently 40 REITs listed in Singapore Stock Exchange.
Why Invest in Singapore REITs?
High Yield
The main benefit of investing in Singapore REITs is that they can provide a high dividend yield, between 5-9%. There are not many other investment alternatives that can generate this much return in the current market condition. Compared to other income assets in Singapore, the overall average dividend yield of Singapore REITs sector is about 6.76%, which is much higher than bank saving, 10 Years Singapore government bond yield and even Singapore's Straits Time Index (STI) ETF dividend yield.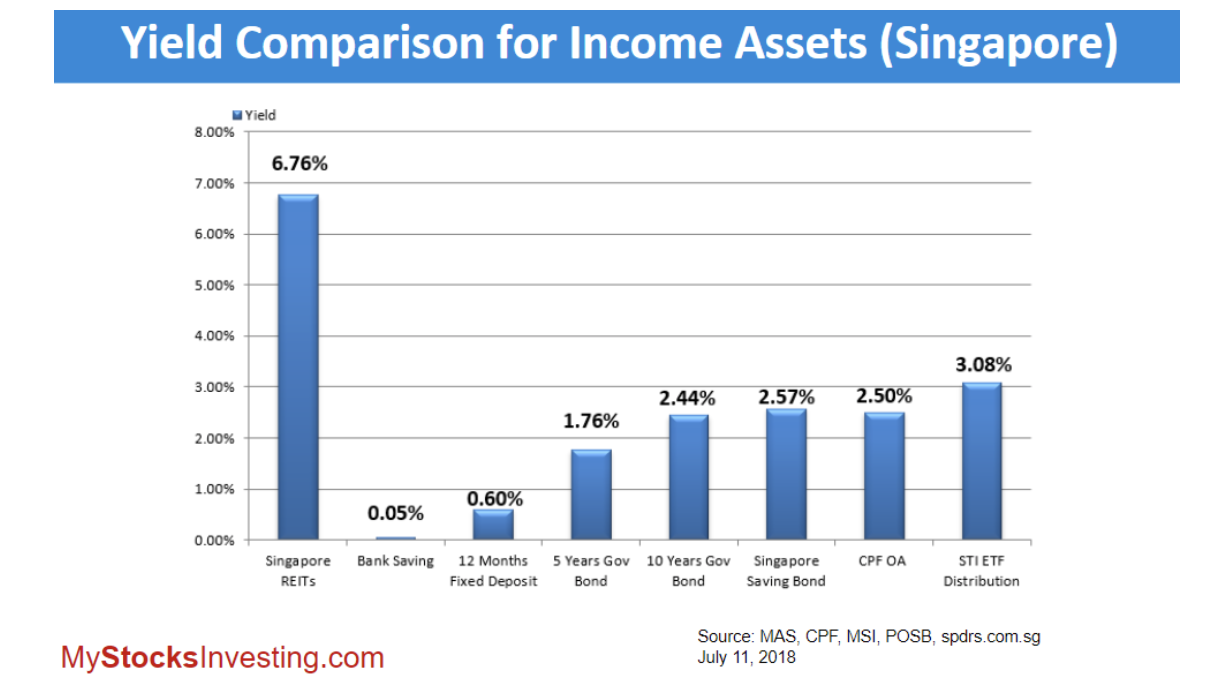 When compared to other dividend shares listed in Singapore Stock Exchange, Singapore REITs are a clear winner and much higher than the 3 Banks (DBS, UOB and OCBC) and SingTel (telecommunication company). Furthermore, the downside risk of the share price is very well supported by the tangible brick and mortal real estate and the high dividend pay-out. Unlike other shares, the share price is very much dependent on whether the underlying company is able to generate the operating cash flow in the long run.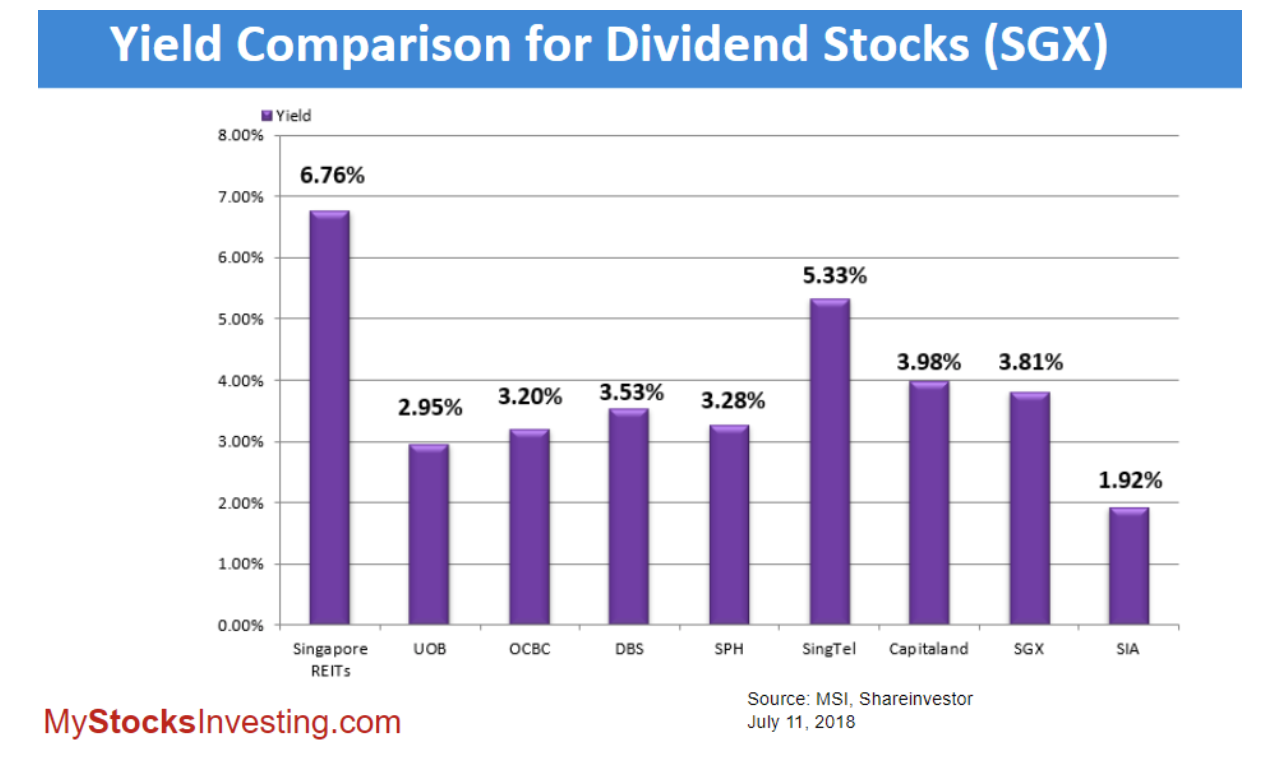 Simple Business Model
Owning REITs is like owning a portfolio of properties. Owning REITs is essentially running a landlord business, i.e. buy property, lease out property, collect rental and distribute 90% income back to unit holders. The business model is very straightforward and easy to understand.
Investing in REITs requires minimal monitoring as the business model and property sector will not change overnight unlike other shares whereby the stock price can take a huge plunge when the competitive landscape has changed.
Low Investment Amount
Directly investing in properties require a large capital. In order to own an investment property in Singapore, for example, buying a shoe box apartment one would need half a million Singapore dollars. There are various fees such as ABSD (Additional Buyer Stamp Duty), SSD (Seller Stamp Duty) etc. adding another 10% – 30% to the cost of investing in a property. They also take much longer to sell in case of an urgent need for cash. On the other hand, the investment amount can be as low as S$100 to own a portfolio of properties by investing in REITs. For example, Lippo Malls Indonesia Retail Trust (LMIR) has the lowest share price of S$0.32. REITs can be sold easily in the stock exchange and much easier to be liquidated for cash.
Summary Benefits of REITs
Liquid
Easy to Buy and Sell.
Low Capital required
Only a few hundred dollars required to start investing.
No stamp duties, taxes or legal fees
Dividend is not taxable for individual investors.
Professionally Managed
The properties are managed by experienced and professional property manager.
High Yield