Balance sheets show the trade-off between resilience and optimisation
% of companies with net cash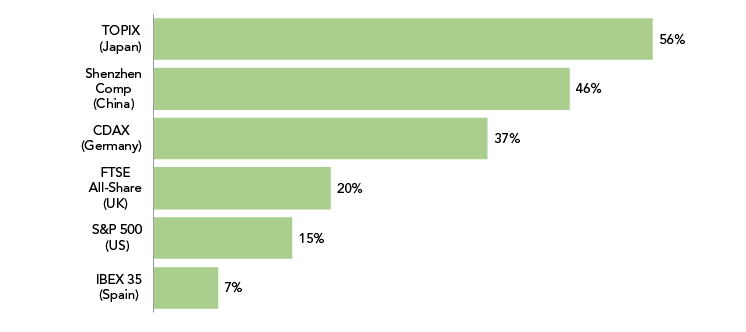 Source: CLSA, Factset as at 21 April 2020
As we highlighted last month, coronavirus is especially dangerous for patients with pre-existing conditions. This is true as much in the corporate world as it is for human beings. The unprecedented and unorthodox nature of the shock should not be allowed to disguise the fact it has revealed a shocking level of fragility amongst public and private companies across the globe.
This month's chart demonstrates one proxy for fragility, the percentage of companies with net cash balance sheets. Debt magnifies the impact of outcomes, cash on hand dampens them. If you came into this with cash, the probability of your business needing life support is reduced.
Unbeknownst to many shareholders, corporate management have been engaged in a previously implicit, but now very explicit, trade-off between optimisation and resilience.