Wine Owners (www.wineowners.com) is doing for wine collectors what the iPod did for music lovers twenty years ago. It immediately simplifies life for those looking to build a wine collection, or to efficiently manage an existing collection. The system was created by Nick Martin – an avid wine collector and investor with a background in data. Now anyone with a wine collection, and particularly those interested in wine as an investment, can simply email a spreadsheet of their wine collection to the Wine Owners team and have it automatically uploaded and organised.
The need for a system like Wine Owners is clearer today than when Nick Martin originally created it. Passion assets are ever-more attractive and necessary in the unstable financial landscape post-2008, and wine is confirmed as the best-performing of all passion assets (Knight Frank Wealth Report 2017). Wine Owners' success at supporting the needs of wine collectors and investors has been confirmed by strong growth, and a second venture capital raise in late 2017, to support further growth.
Two distinct halves make up Wine Owners. First, its collection management system, which neatly catalogues wine collections of all sizes. At the time of writing, more than five million bottles of fine wine are logged in this system. Second, its trading exchange – a busy marketplace for fine wine collectors and investors. Thousands of pounds worth of wine are listed, bought or sold on the exchange every hour. These two halves plug work seamlessly together; when a trade is made on the exchange side, an automatic update is made on the cellar management side.
Underpinning both halves of this system is a custom-built database of fine wines and prices, which has tracked the wine market's every move for over a decade. This data is drawn from the wine world's most trusted data sources, supplemented by Wine Owners' own data. Every trading decision – buy, keep, sell – is supported by solid data, clearly presented in charts and graphs.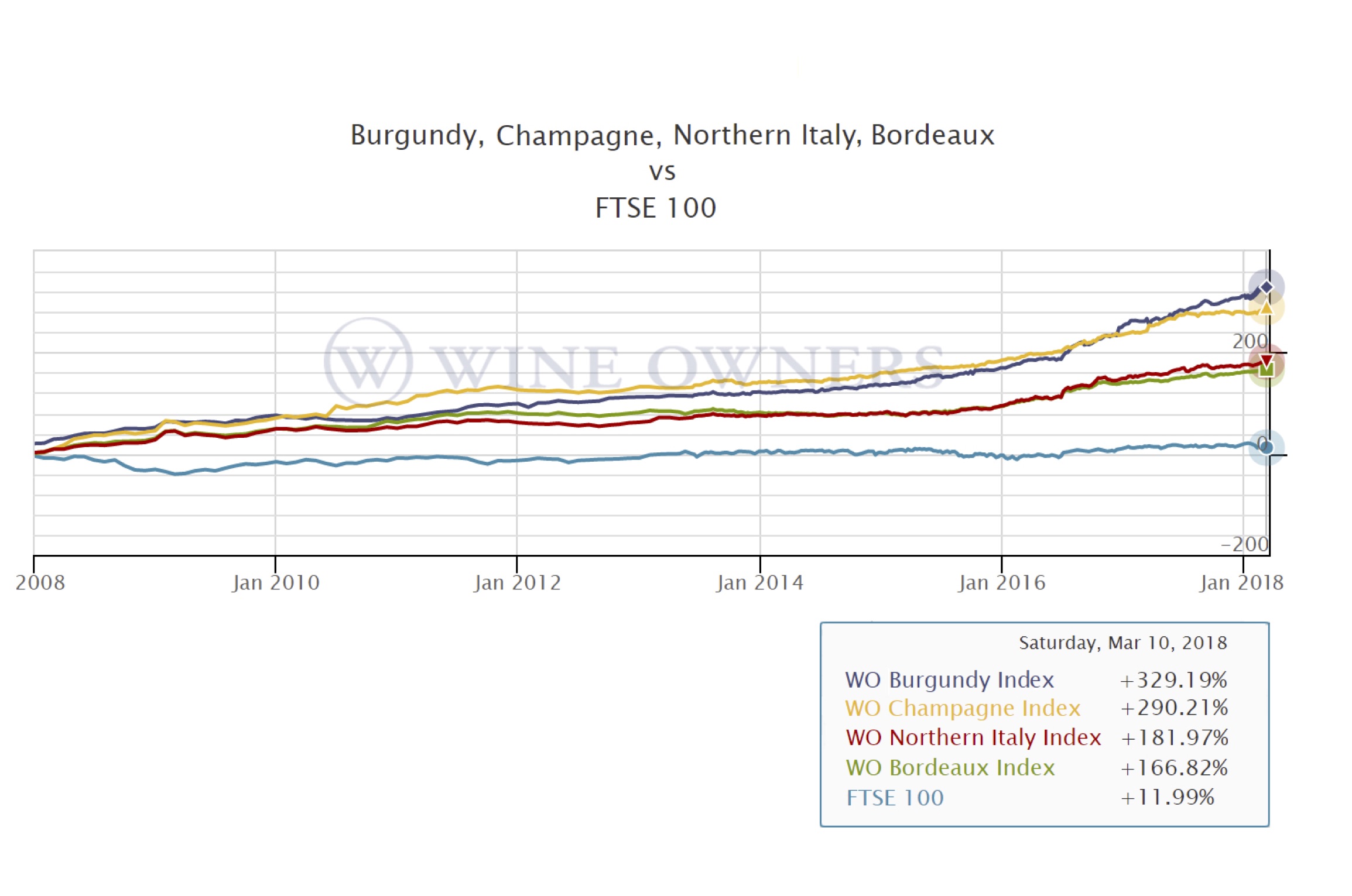 10-year Investment Performance: Bordeaux, Burgundy, Champagne, Northern Italy and vs. the FTSE.
This graph (taken from Wine Owners' website), directly compares market performance of investment-grade wines from Bordeaux, Burgundy, Champagne and Northern Italy, plotting them against the FTSE 100. Wine is the obvious winner, but it's interesting to compare the regions' individual performances.
Champagne is arguably the most interesting of the three stories here. It has clearly performed well, as have the other regions, but the drivers of its success are quite different. The primary driver is not a shift in consumer preference, nor refinements in winemaking, but heavy marketing investment by the region's top producers. A more recent driver has come from wealthy Asian collectors turning away from Bordeaux in search of wines more capable of immediately demonstrating wealth and luxury. This is Champagne's trump card; Bordeaux is the wine for hiding away in the cellar for a decade or two, but Champagne is the celebration wine for showing, opening and conspicuously consuming.
Burgundy is the big winner overall. It has shown the greatest gain over ten years, and has capitalised on an opportunity to shine, created by the temporary confidence loss in Bordeaux, in 2012. Burgundy's investment value is driven by scarcity (the region produces relatively tiny quantities of wine), so a string of smaller harvests has very much played to its favour. The region's ongoing return to a classical wine style has done much to stabilise the performance of its wines as long-term investments.
Bordeaux, despite faltering in 2012, has never lost its volume dominance of the investment wine market. It remains the go-to region for wine investment, and makes up the majority of most collections. Bordeaux has recovered particularly well since early 2016, propelled by the high quality and quantity of the 2015 wines. This provided much-needed relief to investors after six years of disappointments – first the eye-watering release prices of the excellent 2009 and 2010 vintages, and then by the four less-impressive vintages which followed.