Several shocks, both positive and negative, have prevented the US economy entering an overdue recessionary phase
The US economy is in its longest economic expansion on record. The unemployment rate fell to a 50-year low of 3.5% in September (see figure 1). Unemployment is a good way of observing the economic cycle. It does not correlate exactly with economic growth, but it gives a good picture of demand conditions and it reflects most people's perception of the state of the economy (it is closely related to the real estate vacancy rates, for instance). To understand why this latest cycle has been so long in the US, we need a theory of why recessions happen.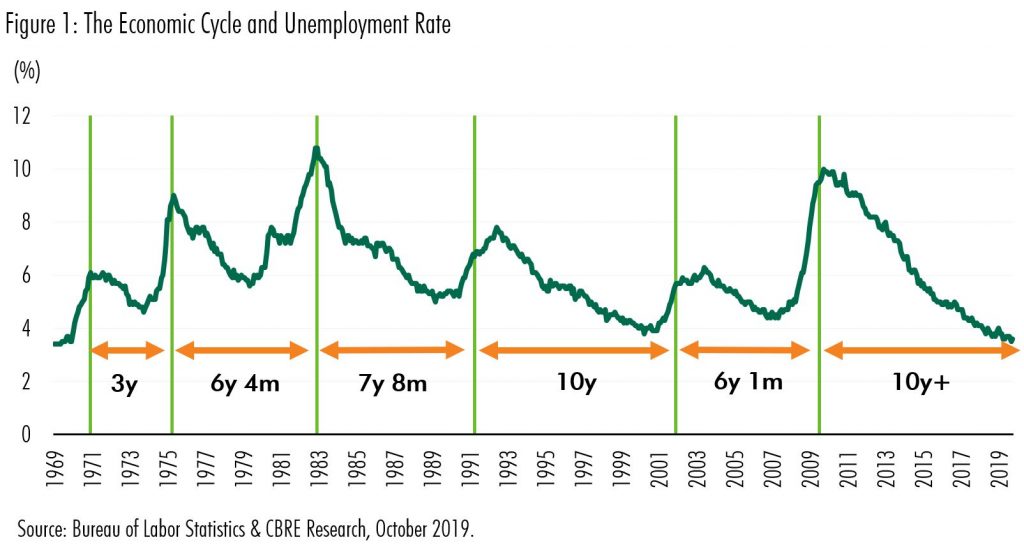 Typically, after a period of sustained above-trend economic growth, aggregate demand catches up with aggregate supply and inflation begins to rise. Interest rates move up to control prices, but often not quickly enough because poor economic data create policy lags. Explosive late-cycle growth sets in, mainly due to over-aggressive lending by banks and often in response to buoyant real estate conditions or high rates of new business creation. Inflation rises sharply and interest rates must play a quick game of catch-up. Economic activity slows and a realisation occurs in the banking business or household sectors that debts cannot be repaid as planned. A recession ensues.
So why hasn't it happened this time? The answer lies in low inflation and a sustained period of below-trend growth. In the US, three negative demand shocks and two positive supply shocks have created a slow but sustainable economic expansion, in which inflation has not shown up.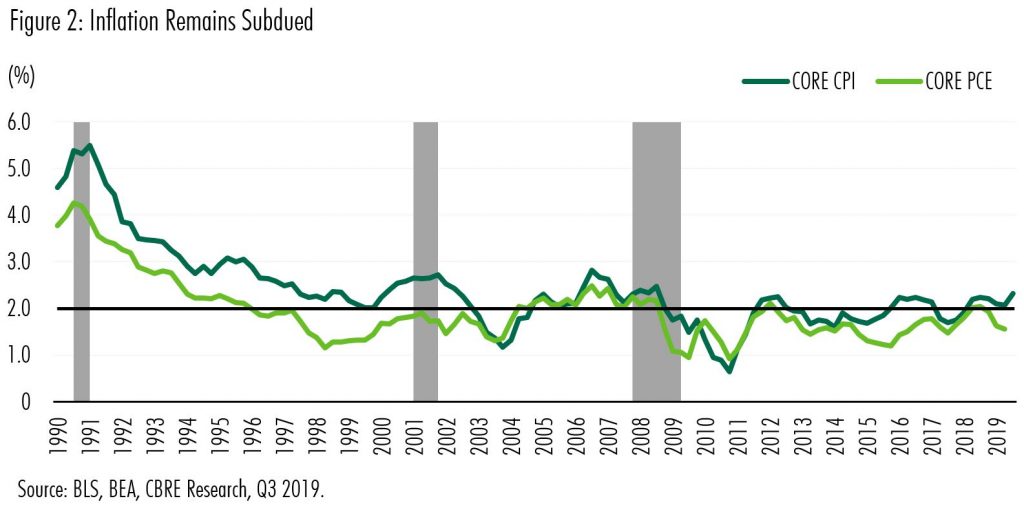 The first of the three negative demand shocks was the eurozone crisis of 2011-12. Following a brief recovery from the Great Recession, the eurozone economy entered a multi- year downturn as several members looked likely to default on sovereign debt obligations. Inflation dipped below 1%.Consumer and business confidence dropped in the US and the softness affected US exports in 2012 and 2013. It also weighed on the US stock market and bank lending (see figure 3).