Originally published January 2021.
A few months ago I came up with a simple way to categorise companies and their shares based on their most important attributes.
For me, those most important attributes are quality, defensiveness and value.
When combined in various ways these attributes give rise to eight overlapping categories, as shown in the diagram below.
Stocks can be defined by their combination of quality, defensiveness and value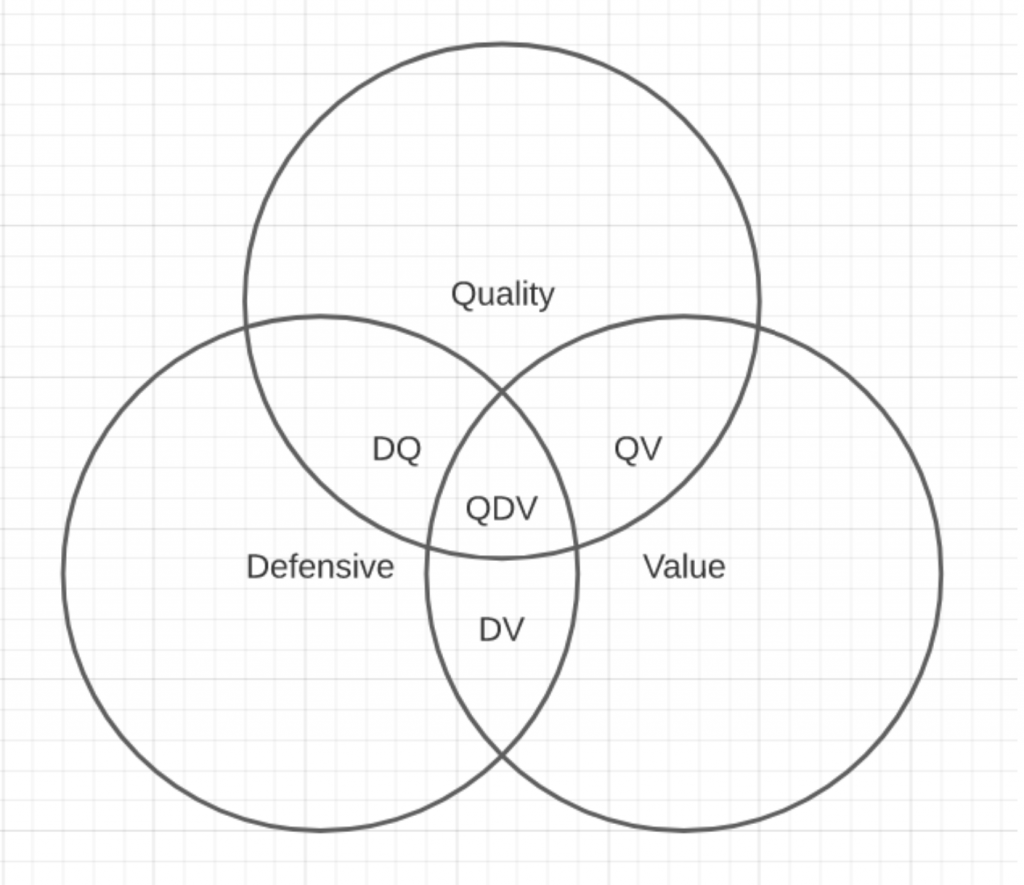 From best to worst, at least from my point of view as an income and growth investor, these categories are:
Quality defensive value

Quality value

Defensive value

Quality defensive

Quality

Defensive

Value

No attractive attributes
The first three categories (in green) include companies I'm interested in buying. These are companies with good prospects which are attractively priced.
The next four (in amber) are companies I wouldn't buy, but I might hold onto if I already owned them (at least until something more attractive turned up).
The final category (in red) contains companies I wouldn't buy and would sell as soon as possible. The only exception would be situations where I choose to hold on for a while to learn more about what went wrong.
Of course, quality, defensiveness and value are just words. To have any meaning they need definitions, so here's a brief overview of how I define each of these terms.
Quality companies use competitive strengths to fuel consistently high returns and sustainable growth
The primary attributes of a quality company are a) consistently high returns on capital employed and b) the ability to reinvest some of those returns at equally high rates to drive sustainable growth.
Both of these features only exist when a company has durable competitive advantages.
To flesh the definition out a bit more, here are the questions I ask when assessing a company's quality (remember: not all quality companies will answer yes to all of these questions):
Does the company have a highly focused core business?
Has it had the same core business for over a decade?
Has it had broadly the same goal and strategy for over a decade?
Has it earned consistently high returns on capital employed?
Has it produced consistent and sustainable growth?
Does it have a culture of evolution rather than revolution?
Has it avoided excessively rapid expansion?
Has most of its growth been organic rather than through acquisitions?
Does it have at least one of these durable competitive advantages:
network effects?
valuable and hard to replicate assets?
market leadership?
switching costs?
If want to know more about these questions then take a look at my investment checklist. It includes an editable template which you can use next time you're analysing a company.
Defensive companies are robust and operate in non-cyclical markets
A defensive company is one that can generate consistent sales, profits and dividends regardless of the economic environment or other volatile factors. They usually operate in markets where supply, demand, income and expenses are relatively stable in good times and bad.
Of course there's more to it than that, so here's the full list of questions I use to assess defensiveness:
Is the company's core market defensive?
Is the core market expected to grow over the next decade?
Is the core market relatively free from regulatory risk?
Is the core market unlikely to be disrupted?
Is the company free from significant concentration risk?
Is it free from significant product or patent risk?
Is it largely unaffected by commodity prices?
Does it have prudent financial liabilities?
Value: a low price relative to expected future dividends
In theory value investing is simple because there are only two things that matter:
a company's current share price;
the amount and timing of all future cash returns (mostly dividends) from the company between now and the end of time (or more likely, until it's taken over or goes bust)
If the price is low enough then those future cash returns will provide above-average returns, and that's why value investors like to buy at low prices.
There are many ways to estimate future cash flows from a company, but personally I like to use the somewhat simplistic dividend yield-plus-growth model as a starting point.
In other words, I start by assuming an investment's total rate of return will equal the current dividend yield plus the estimated long-term dividend growth rate.
To help me estimate a company's long-term dividend growth rate and therefore its potential total returns, I use the following three questions:
Is the company free from current problems that could materially damage its long-term prospects?
Is the company likely to grow over the next 20 years, and if so, how fast? (Obviously this is an estimate.)
Do you think this investment is likely to outperform over the next ten years?
Again, if you want more of the details behind these questions, please see my investment checklist.
Having analysed a company's quality, defensive and value credentials, the next step is to find out where it fits into the overall picture. As a reminder, here's that picture again: