As a group, UK housebuilders have produced astonishingly good financial results over the last decade.
This has given their shareholders equally astonishing returns, with average share price gains from the largest housebuilders at close to 1,000% since the 2009 financial crisis.
One housebuilder in particular, Bellway, sits at the very top of my stock screen, thanks to its impressively consistent double digit growth, high profitability, low debts and a dividend yield of around 4% (at a share price of 3,800p).
And following the Conservative's win in the 2019 general election, Bellway's share priced jumped another 10% or so, rewarding shareholders with yet more capital gains.
So are housebuilders set to produce similarly impressive returns over the next decade, or has this particular house party already run its course?
I'll try to answer that by first looking at the financial results which underpin those impressive share price gains.
Bellway's financial results are astonishingly good
I'm going to stick with Bellway as it's one of the better housebuilders in my opinion. Here's a quick chart showing its quite frankly amazing results over the last decade: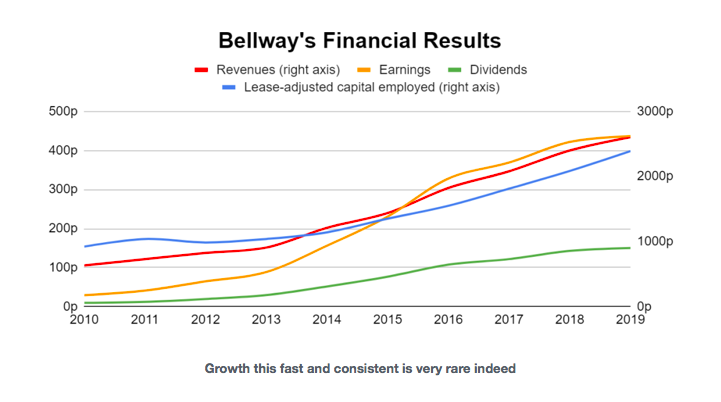 As you can see, everything that's good (revenues, earnings, dividends etc) has gone up over the last decade, by a lot. For example, its:
Growth Rate (averaged across revenues, capital employed and dividends) has averaged 23% per year.
Growth Quality (consistency of growth across revenues, earnings and dividends) has been 100%, i.e. everything went up every year.
Profitability (averaged across return on sales and return on capital) averaged 15% per year.
Debt to earnings ratio is very low as Bellway has almost no debt.
These are incredible results and, on top of that, the company has no large pension liabilities and hasn't made any large or risky acquisitions in recent years.
These are exactly the sort of financial results I like to see in a company, so I think Bellway is definitely worth looking at in more detail.
People will always need houses
Bellway's core business is housebuilding which means, unsurprisingly, it builds houses.
It does this in the UK, with a fairly even split between houses built in the north and south (split about 48% to 52%, respectively).
It builds mostly for the private market (88%), with a small amount for the social housing market (12%).
Revenues, earnings and dividends have grown enormously over the last decade, primarily because Bellway has built more houses and sold them at higher prices:
The number of houses sold by Bellway has more than doubled from 4,595 in 2010 to 10,892 in 2019 (a 137% increase)
The average price of each house sold has almost doubled from £167,000 in 2010 to £295,000 in 2019 (a 76% increase)
The average net profit per house sold has increased sixfold from £8,000 in 2010 to £49,000 in 2019 (a 533% increase)
These are fantastically good results for a relatively mature company operating in a very mature market. Some might say too good, so let's look at some negative factors.
The housing market is cyclical