Summary
Xaar is a relatively young and small leading-edge technology business which I bought in mid-2018
It's a good example of how excessive R&D in highly cyclical businesses can produce bad results
I sold because a 90% increase in Xaar's share price since November means the company is no longer obviously cheap
Although Xaar was a bad investment it has helped me define the boundaries of my comfort zone, which is defensive value stocks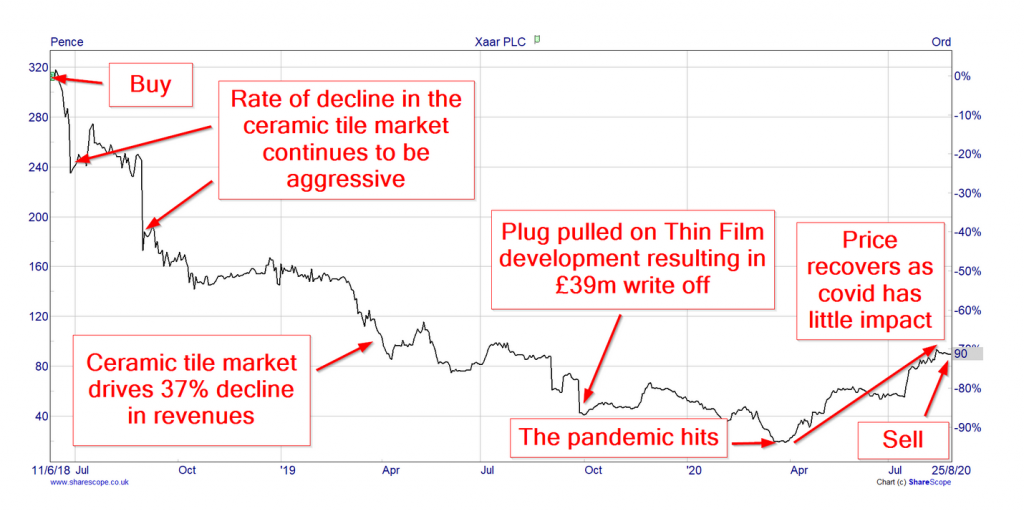 When Xaar joined my portfolio in June 2018 I knew it was close to the edge of what I felt comfortable investing in. Unlike most of my investments, which tend to be fairly large, established market leaders, Xaar was a relatively young disruptive technology business with a track record that was relatively short and inconsistent.
It was set up in the 1990s to commercialise digital inkjet printing technology and, by 2013, had grown substantially to peak revenues of £140m. When I invested in Xaar its revenues had declined from that peak, but it looked as if the company had turned a corner and returned to growth.
But I was wrong. Xaar's results became consistently worse through 2019, eventually leading to massive writedowns, huge losses and the departure of the chairman, CEO and CFO. As a result of Xaar's rapid decline, I carried out a thorough review of the company and my investment process in November to see where both Xaar and I had gone wrong.
That review reaffirmed my preference for "defensive value investing", which to me means investing in:
a diverse portfolio of
market-leading businesses with
long track record of consistently high profitability driving
sustainable inflation-beating growth thanks to
durable competitive advantages.
In the rest of this post-sale review I'll outline why I bought Xaar in the first place, what went wrong and why I no longer think Xaar is a suitable holding for a defensive value portfolio.
I bought Xaar because it was highly profitability, had grown substantially and seemed to be attractively valued
As I've just mentioned, Xaar was created in the 1990s to commercialise potentially disruptive digital inkjet printing technology. Initially Xaar achieved this by licensing its patented know-how to printer manufacturers for a fee. After a while, Xaar acquired manufacturing facilities and started to manufacture inkjet printheads for commercial and industrial printer OEMs (original equipment manufacturers).
Xaar was successful and grew, somewhat lumpily, to peak revenues of almost £140m in 2013, driven largely by the ceramic tile printing market as it converted to digital printing. When Xaar joined my portfolio in 2018, those revenues had fallen back to £100m as the ceramic tile printing market matured. My assumption at the time was that the ceramic tile market would stabilise, with Xaar retaining significant market share following the initial transition to digital printing.
Here's a snapshot of Xaar's financial results when I bought it in mid-2018: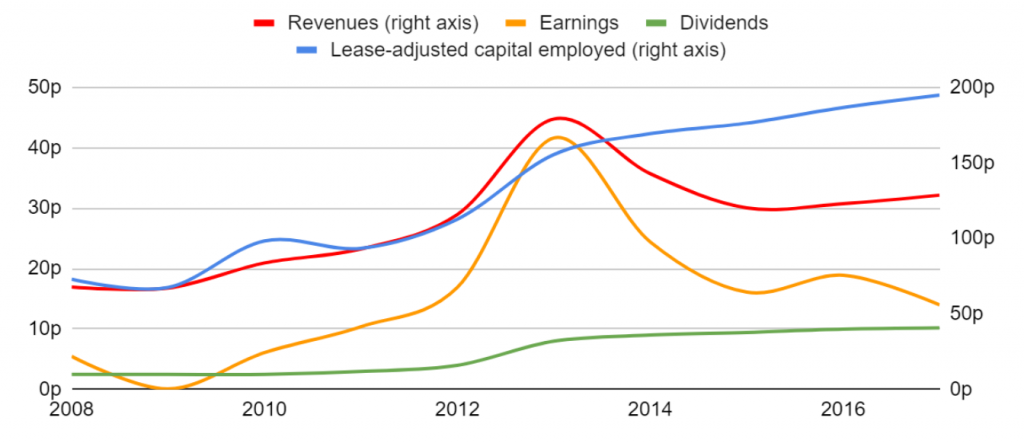 The chart above shows how revenues and especially earnings exploded upwards as the ceramic tile printing market switched to inkjet from around 2010 to 2013. That boom was then followed by an inevitable decline in sales as the transition came to an end. This is normal because once most end users have switched to digital printing, they don't need to upgrade their printheads for several years. When I bought Xaar in 2018 it looked as if its revenues had already stabilised and started to recover.
The chart also shows that capital employed was the only metric that consistently went up. That was driven by heavy R&D investment into Xaar's groundbreaking Thin Film technology. Thin Film was supposed to help drive the company towards revenues of £220m by the year 2020, but instead in nearly drove Xaar off a cliff (I'll have more to say on that shortly).