For a while we have been interested in the relationship between global M&A (Mergers and Acquisitions) activity and CRE (Commercial Real Estate) investment. Strong M&A activity is highly correlated with strong CRE investment levels.
The latest data shows that the value of global M&A is approaching the market level of 2007(1). A 30% year-over-year increase through the first three quarters of 2018 (totaling US$3.1 trillion) puts M&A transaction value just 7% below the same period of 2007. Given the current momentum, 2018 may eclipse 2017 as the best year ever for corporate consolidations.
Figure 1 exhibits the global volume of M&A and real estate transactions in TTM (Trailing-Twelve-Month) values with a smoothed trendline of quarterly M&A(2).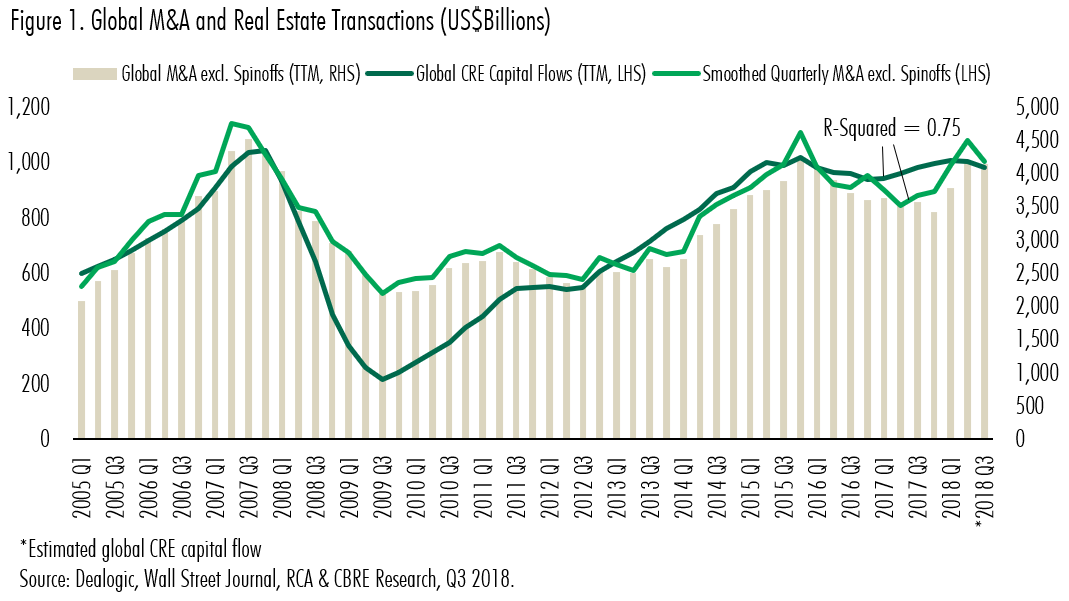 R-Squared, which measures the degree to which a dependent variable can be explained by one or more independent variables, reaches 0.75 between real estate transactions and the smoothed quarterly M&A. It implies that 75% of the variance in the real estate capital flows can be explained by the smoothed level of global M&A. The correlation is particularly helpful in predicting the volume of real estate investment, which typically lags M&A activity by three or four quarters (denoted by the dark green line).
The data suggest that CRE investment will remain strong and will possibly increase, for at least the next couple of quarters.
There may be no direct link between corporate M&A, but there are a number of quite strong associations: