China's position on the world stage is changing rapidly as it moves to become a strategic competitor to incumbent economic powerhouses. Not least because of the recent trade conflict between the US and China and its long-term fallout as well as the covid-19 outbreak, it is imperative for companies to recalibrate their manufacturing relationships with the Chinese market.
Part 1 of this two-part miniseries, published last week, discussed the global importance of China's manufacturing sector and relocation opportunities in East and South Asia.
Today's part 2 will look at other suitable manufacturing locations in South and South-East Asia as well as Sub-Saharan Africa.
How about other countries in South Asia?
South Asian countries outside India provide a young and plentiful workforce which opens up opportunities for investors to expand manufacturing. However, political instability and the lack of infrastructure represent significant investment hurdles.
Bangladesh and Sri Lanka, however, show signs of economic improvement, driven in both cases by the garment industry and improved trade liberalisation. The comparatively high educational achievements in Sri Lanka should allow expansion into the service sector or higher-value manufacturing. The same applies partially to Bangladesh.
Nepal has become a major labour exporter to traditional target markets like the Middle East – but increasingly also to European markets, easing their lack of qualified labour. Once the country manages to reverse this trend, local manufacturing hubs would certainly profit. Pakistan, as the biggest labour market in the region, together with China, enacted the China-Pakistan Economic Corridor (CPEC) to invest $60bn in energy generation and infrastructure projects and with the declared goal of achieving growth rates in excess of 6% per annum. It remains to be seen how these projects will materialise and allow manufacturing (and service) investors to tap the significant expansion potential the market has to offer.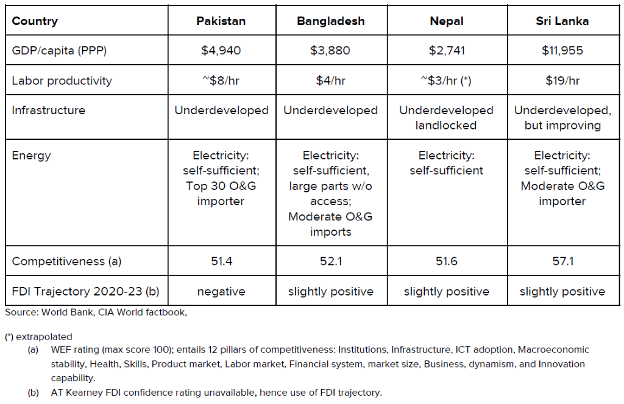 FDI trajectory: Pakistan, Bangladesh, Sri Lanka, Nepal