Despite global trade tensions, the global economy reached an estimated growth rate of 3.8% in the first half of 2018, the fastest since 2011, driven by growing consumer spending and massive fiscal stimulus enacted in the U.S. We might even argue that trade tensions have been good for the global economy, pushing China into additional economic stimulus. 
Nevertheless, in the area of trade relations, the repositioning of the U.S. continues. Tensions between the U.S. and EU have eased but continued to rise between the U.S. and China. Prospects brightened on regional trade agreements such as NAFTA (at least with Mexico) and a potential APAC deal later this year. 
Despite trade uncertainties, income growth and capital appreciation in real estate generally kept up the positive momentum in line with positive economic growth. CBRE's rent and capital value indices recorded year-over-year growth across all property types and all regions in Q2 2018, an all-around growth the market hasn't seen since Q1 2016. Quarter-over-quarter growth prevailed in office and industrial sectors, while retail rent and capital value dropped in EMEA slightly.
The spread of real estate prime yields and government bond rates continues to narrow slowly. Capital growth has been resistant against the near-term pressure from rising interest rates. Income growth has increasingly become the return driver, particularly in the APAC office and industrial sectors.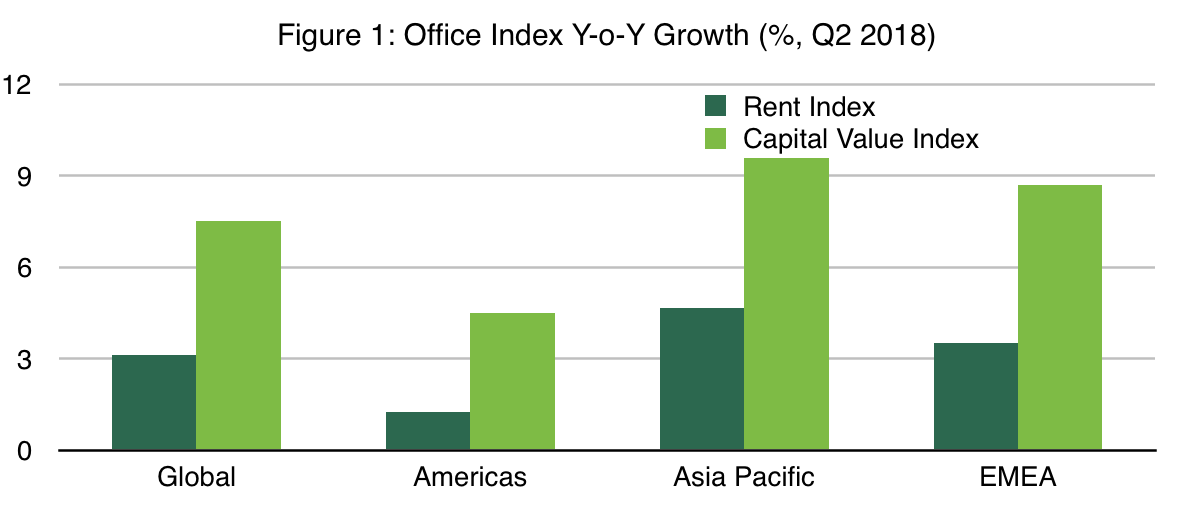 Source: CBRE Research, Q2 2018.