For the past several years, without fail, various trade magazines, in partnership with some think-tank or another, have boldly predicted the coming 12 months to be "The Year of Sherry". They point to Majestic Wine recording a 25% increase in sales, the bastardisation of the wine with pop in order to appeal to hen-dos and the opening of numerous trendy tapas restaurants in Shoreditch as sure fire evidence of this. It never comes to pass. But it definitely will next year.
Poor Sherry. The fortified white wine of Andalucía, has had a torrid time of it for the past 30 years. Ask most people with a passing interest in wine what they think of it and they'll tell you it's the cheap, sweet tipple of little old ladies, tramps and Uncle Monty from Withnail and I, best drunk from a glass thimble. Harvey's Bristol Cream and Croft's Original are largely responsible for this.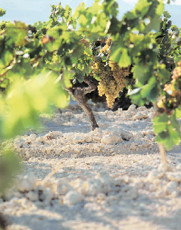 Source: DO Jerez y Manzanilla
Perhaps this is in part due to the fact industry insiders, who pride themselves on liking things no one else does, simply can't believe a wine of such high quality, offered at such extraordinary value can continue to be so underappreciated (cf. Riesling).
They'll point to its versatility as a food wine, its length, consistency, uniqueness and how it's always released ready to drink. Styles other than Fino and Manzanilla can also be left open for days if not weeks without losing their freshness and are therefore ideal for drinking a couple of glasses at a time.
The problem is, like so many of the best things in life, Sherry is, particularly in its driest expressions and even more so when biologically aged, an acquired taste. In my experience, handing a glass of Fino as a pre-dinner heart-starter to a guest hoping for the usual Marlborough Sauvignon Blanc or Pinot Grigio can be like offering a bowl of anchovies to a teenager weaned on Haribo Starmix.