With real estate prices at cyclical highs, investors must look to the long term for outperformance. Understanding the evolution of global cities provides the best framework for alpha-generating real estate strategies in the current economic climate.
We have discussed the opportunities created by smart technology such as blockchain before, but it is worth discussing the practices and measurable benefits in the light of McKinsey Global Institute (MGI)'s excellent recent report: Smart Cities: Digital Solutions for a More Livable Future.
MGI evaluates the potential impact on city life of a range of technologies which are: 1) digital; 2) commercially available or already deployed, and; 3) solving a public problem. Global cities are on the cusp of delivering major improvements in the quality of life, but some are moving faster than others. MGI avoids a definitive overall ranking of cities, but with apologies, we have reworked their data and generated a list of top 10 smartest cities for real estate investment (see Figure 1). This said, investors need to get up close and look in detail at where a city's smart strengths lie, because it opens the door to a variety of real estate strategies.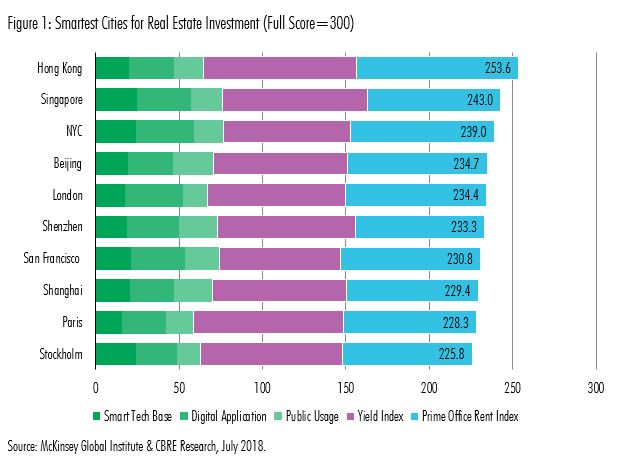 Fundamentally, smartness is not merely a perception but about tangible benefits such as economic development and cost savings that achieve better quality of life. Therefore, infrastructure, application and broad-based adoption are all critical pieces for a city to become smart. Megacities like Beijing, New York and London with large population that need massive public transportation, digital solutions and flexible workplaces around the clock simply must get creative at solving problems.