U.S real estate is having 'a good cycle'. It is a long one by any standards.  We are also seeing shifts between sectors. Single family homes have given way to apartments; but the way in which the retail has ceded ground to industrial and logistics is the biggest talking point. Technology and demographics are generally seen as the big drivers of change but there is a more basic explanation which comes from economics.  Behind the scenes, as always, prices are playing a part in reallocating resources.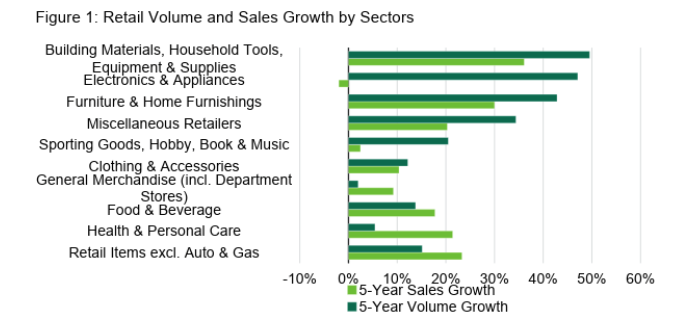 Source: CBRE Research, Macrobond, U.S. Census Bureau, April 2018
Figure 1 shows market growth over the last five years of all the major retail product categories, in both value and volume terms. Values value represents the total dollar amount of goods sold (price times quantity) in a product category and is the normal way in which retail sales is measured in the U.S. It can be misleading when prices are falling as they have been for retail products such as electronics and recreation commodities. Volume represents the actual quantity of good sold. Figure 1 shows that volume growth has been much higher than value growth in many sectors because the price of goods sold in these sectors has been declining. In business terms, retailers have had to sell more items to gain the same level of turnover.
Of course, consumers are reaping the gains of falling prices. Each year that prices fall, $100 goes further in the shops.  This may be one reason why wage growth in the US economy has not been as high as expected as unemployment has fallen.  However, price deflation poses operational challenges to retailers, particularly those in the middle market. It requires constant cost discipline and efficiency gains which are not easy when other costs are rising. This is a major reason why e-commerce is doing so well. The ability to handle volume growth efficiently with lower distribution costs has given omnichannel and internet retailers a better position in an environment in which it is very hard to raise prices.
Retailers can respond, and they are responding. Michael Porter (Professor, Harvard Business School) tells us there are three generic business strategies: product differentiation, cost leadership and niche. Retailers must be very clear on which strategy to adopt, and not get caught in the middle. Product differentiation is about effective branding and higher levels of service. Retailers who adopt this strategy will link their products to rapidly evolving lifestyles, with attractive and persuasive advertising. Think Subaru Crosstrek advert. Viable strategies exist in goods categories where cost leadership is important, particularly around regularly discounting and bargain hunting. Costco and T.J. Maxx are good at this. Niche can also work, particularly around locally produced artisan products.