U.S real estate is having 'a good cycle'. It is a long one by any standards.  We are also seeing shifts between sectors. Single family homes have given way to apartments; but the way in which the retail has ceded ground to industrial and logistics is the biggest talking point. Technology and demographics are generally seen as the big drivers of change but there is a more basic explanation which comes from economics.  Behind the scenes, as always, prices are playing a part in reallocating resources.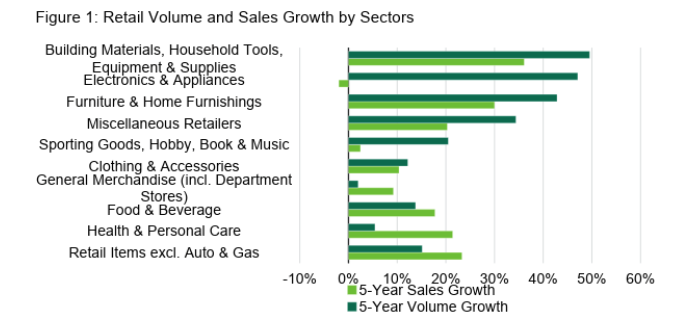 Source: CBRE Research, Macrobond, U.S. Census Bureau, April 2018
Figure 1 shows market growth over the last five years of all the major retail product categories, in both value and volume terms. Values value represents the total dollar amount of goods sold (price times quantity) in a product category and is the normal way in which retail sales is measured in the U.S. It can be misleading when prices are falling as they have been for retail products such as electronics and recreation commodities. Volume represents the actual quantity of good sold. Figure 1 shows that volume growth has been much higher than value growth in many sectors because the price of goods sold in these sectors has been declining. In business terms, retailers have had to sell more items to gain the same level of turnover.