Last week we looked at historical lessons derived from prior pandemics. Today we will expand into determining the likely economic fallout of covid-19, consider the capital market feedback and map the way forward.
How do we value the covid-19 impact?
My review of relevant academic literature finds a scenario outlined in a paper published by Fan/Jamison/Summers most reasonable. While prior studies focused on income losses only, their model employed a more comprehensive view. It expanded the directly measurable income losses by the costs of excess mortality, commonly referred to as a statistical life capturing the excess income an individual would demand for a corresponding increase in mortality risk.
Using an 'expected loss' framework accounting for the risk of an uncertain event, expanded with information about the severity or value of that event, the paper arrived at the following impact matrix outlining mortality and economic losses of influenza pandemic risk, as in the case of covid-19: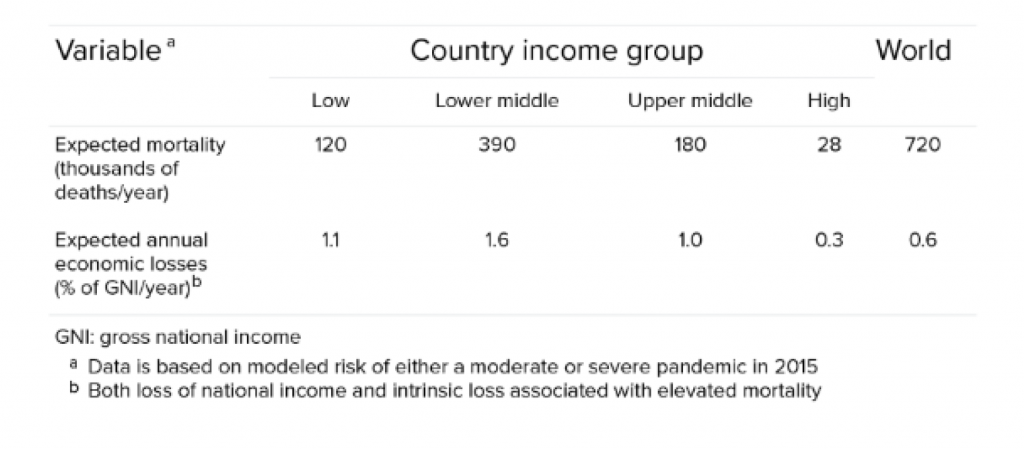 Compared with the spring of 2020 the economic fallout from covid-19 is more visible today. Given the notable shortcomings in countries' ability to handle and contain the outbreak but also the built-in economic mouse traps, like fragile supply chains, additional 'resurrection' costs will be incurred but are impossible to quantify from today's perspective. Another big question to be answered will be the pandemic's duration and severity. This is especially true in Europe and the United States, two regions with a combination of stunning unpreparedness, severe pandemic spikes and slow economic revival.