The Restaurant Group (which I'll shorten to TRG) joined the model portfolio in early 2016, shortly after the company published some very upbeat 2015 results.
Revenues were up 8% while earnings and dividends per share were up 13%, continuing the company's long track record of impressive results.
But then things started to go wrong in its core restaurant business (TRG also runs pubs and airport concessions, and these continued to perform well).
Initially this was put down to operational issues, such as a lack of focus on value and service. But despite operational improvements over the next couple of years, like-for-like sales continued to fall.
By mid-2018, management admitted that TRG's problems were structural rather than cyclical.
Key problems included reduced footfall at restaurants in out-of-town retail parks (thanks to the shift to online shopping), increased competition from other branded restaurants, new food delivery aggregators (e.g. Just Eat) and increasing costs such as the minimum wage, rent and business rates.
Management's solution was to acquire Wagamama, a high growth pan-Asian restaurant chain. This would bring economies of scale and allow TRG to convert underperforming sites into Wagamamas.
However, Wagamama does not solve TRG's fundamental problems which are, in my opinion, a lack of competitive advantages, a tendency to sign long leases and (thanks to Wagamama) high debts.
For these and other reasons I have decided to sell TRG this month, with the following less than stellar results: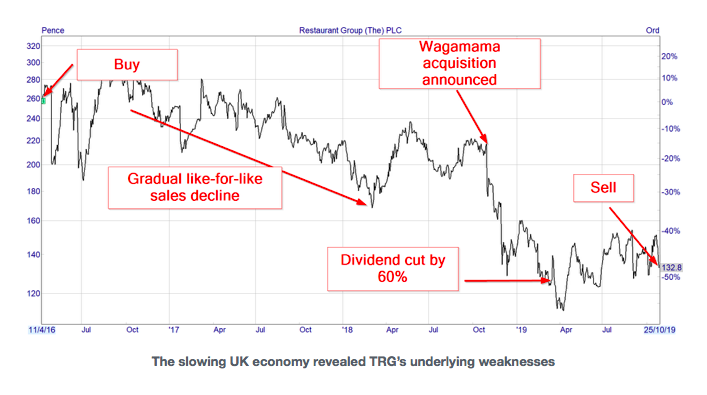 Investment results
Purchase price (adjusted): 257p on 11/04/2016
Initial position size: 3.9%
Sale price: 137p on 05/11/2019
Holding period: 3 years 7 months
Capital gain: – 46.9%
Dividend income: 15.7%
Annualised return: – 12.0%
The slowing UK economy revealed TRG's underlying weaknesses
Note: You can download the original pre-purchase review (PDF) which was published in the April 2016 issue of my monthly newsletter.
Obviously this is not a great result, so in the rest of this post-sale review I'll focus on TRG's underlying weaknesses and how they became much more visible after I began lease-adjusting ROCE (returns on capital employed) a couple of months ago.
But first, here's a quick review of this investment from beginning to end.
Up to 2015, The Restaurant Group had producing rapid and extremely steady growth
When TRG joined the model portfolio in early 2016, its track record was almost second to none. Revenues, earnings and dividends had increased almost every year over the previous decade, giving the company an average annual growth rate of 10%.
This growth had been driven primarily by an increase in the number of restaurants, food-focused pubs and airport concessions operated by the business, from a total of 284 in 2006 to more than 500 in 2015.
Overall TRG looked like a very strong business, with high profitability (average returns on capital of 19%), well-known brands, very little debt and no pension liabilities. The valuation multiples looked attractive too, with a 4.4% dividend yield to go along with its ten-year average dividend growth rate of 12%.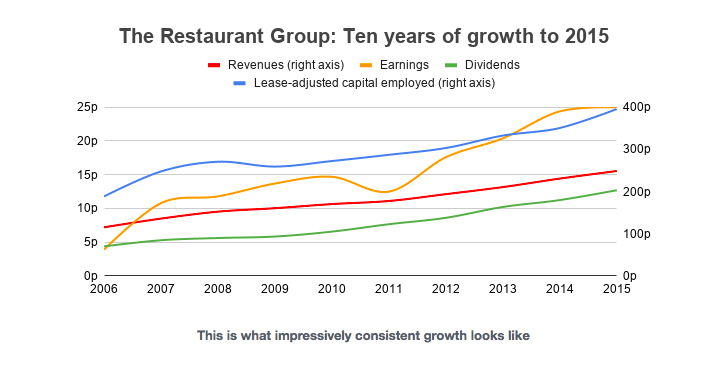 This is what impressively consistent growth looks like
Of course, it wasn't all good news otherwise the dividend yield wouldn't have been so high.
The company's 2015 results mentioned economic uncertainty from the Brexit referendum, an increase in competition from other branded restaurants and pubs, and a decrease in footfall at some of its out-of-town retail park sites thanks to the growing trend for online shopping.
Another headwind was costs, with above-inflation increases to the National Minimum Wage and the introduction of the higher National Living Wage. These negative factors had already led to a like-for-like sales decline of 1.5% and a near-50% decline in TRG's share price (before it joined the portfolio).
Management's opinion was that most of these factors were either short-term or could be dealt with by providing a better service, improved menus, improved efficiency and reduced costs through technology.