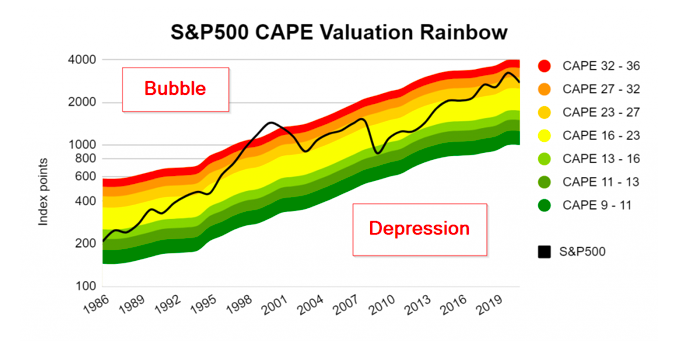 In this article I look at the S&P 500's response to the coronavirus pandemic, the impact on CAPE valuations and what that means for the index's expected ten-year returns.
The world is in the grip of a rapidly expanding pandemic and countries around the world have shut down large parts of their economies and told citizens not to go outside.
The International Monetary Fund (IMF) now expect a global recession far worse than the one that followed the financial crisis and worse than any since the great depression.
Companies left, right and centre are suspending dividends and reporting revenues declines of more than 80%.
And yet despite the obvious damage being done to the global economy, the S&P 500 is not even in bear market territory.
Wot no bear market?
Okay, I lied. The S&P 500 did dip into bear market territory for a few weeks between early March and the start of April.
Having reached (yet another) record high of 3,390 in February, the US large cap index collapsed with record speed, losing more than 1,150 points (34%) in just a few weeks.
The technical definition of a bear market is a decline of 20%, so clearly the S&P 500 was in a bear market, at least for a short while.
However, over the last few weeks the market has become enthusiastic once again, with the S&P 500 gaining 28% in about three weeks.
Today (15th April) the S&P 500 sits at 2,850. That's a mere 16% below its all-time high, which means the bear market is (for now) technically over.
So what does that mean for valuations? In other words, is the S&P 500 cheap after those double digit declines?
The short answer is no, but to understand why, we need to look at what valuations were like before the pandemic struck.
The S&P 500 went into the pandemic crash with sky high valuations
For most active investors this isn't exactly news, but the S&P 500 has been expensive for a very long time, at least according to its long-elevated CAPE ratio (cyclically adjusted PE).
Expensive means comfortably above average, which in this case means above 17.5. That's the S&P 500's average CAPE ratio (the ratio of price to ten-year average inflation adjusted earnings) over the last 100 years.
When the S&P 500 was at its pre-crisis peak of 3,390, its CAPE ratio stood at 30.6. That's a massive 75% above its hundred-year average.
To put this in context, the chart below show the S&P 500 over the last 30 or so years. The colours on the rainbow tell you whether the index was expensive, cheap or somewhere between: