The approach of a new year is always the time when people start to gaze into their crystal balls, highlighting future trends for the year ahead. I have decided to cast the net a considerable bit further and see what trends we should look out for in the next few decades.
In previous articles I have stressed the importance of taking a long-term stance when it comes to investing in residential property. The additional stamp duty and lower returns means an individual investor has to approach property investment with a much lengthier time horizon than they used to do.
Location, gentrification, transport and the strength of the local economy are all key factors I have touched on in my past articles. This article is aimed at analysing some long-term transformations that will enhance the individual investor's property returns going forward.
These trends are occurring in all areas of the UK, so it is designed as a general article to help give investors a steer.
Properties on busy roads
Currently these properties' values are significantly discounted, and quite rightly, as who wants to live next to a noisy, polluted road?
Well, over the next few decades this will completely change. By 2040 the UK government has set a target for all vehicles to be electric, completely phasing out the traditional internal combustion engine. Allied to this, the major car manufacturers, along with Google and Apple, are investing billions into autonomous vehicle development. These developments will have a significant effect on the property market, both residential and commercial.
Automotive experts reckon that electric vehicles will be a very common sight on our roads within 15 years' time and, in autonomous form, the dominant mode of transport in c.25-30 years' time. This sea change will mean much less busy roads and reduced congestion.
Electric cars are already a common sight in central London due to their exemptions from the congestion charge – they are incredibly silent and pollution-free.
If you combine the above with recent advances in double/triple glazing, then noise and pollution from properties on busy roads will be virtually irrelevant in the next few decades.
The added attraction for anyone investing in these properties is that you can not only pick them up at a cheaper price, relative to other local properties, but you can also benefit from a higher yield.
I do not see the same major leaps in technology for those living close to railway lines or airports. Whilst pollution levels will be better and noise levels decrease, these will be nothing like the game-changing gains that we will see in car technology.
Ex-local authority properties
I have touched on this in previous articles – cash-strapped local councils will continue to sell stock, either via the Right to Buy process or simply to raise money when existing tenancies come to an end.
The percentage increase in private ownership within these blocks and estates will in turn lead to improved valuations as the properties become more acceptable to mainstream mortgage lending.
These ex-local authority properties are often substantially discounted, compared to the local market, and as long as they are brick-built, low rise and located in improving or attractive areas, can make fantastic investments. They also benefit from low service charges, increasing the net rent received.
Single, urban-dwelling people on the increase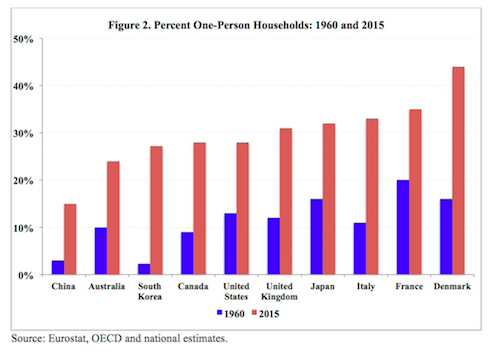 From http://www.ipsnews.net/2017/02/the-rise-of-one-person-households/