In 2012, one of the first companies I invested in as a defensive value investor was Centrica, the company behind British Gas.
It seemed like a good idea at the time. Centrica was a leading player in the defensive utilities sector, with a track record of growth and the best brand name a UK-based electricity and gas supplier could hope to have.
But the investment did not work out well.
Over a period of almost seven years, Centrica's shares have lost more than half their value and, even with a tailwind from regular dividends, the investment has lost value at an annualised rate of 8% per year.
In this post-sale review I want to focus on:
(1) Why I bought Centrica in 2012,
(2) why I wouldn't have bought Centrica if my now much stricter investment criteria were in place in 2012, and
(3) why I've finally decided to sell Centrica
But before I begin, here's a quick snapshot of how Centrica's share price performed: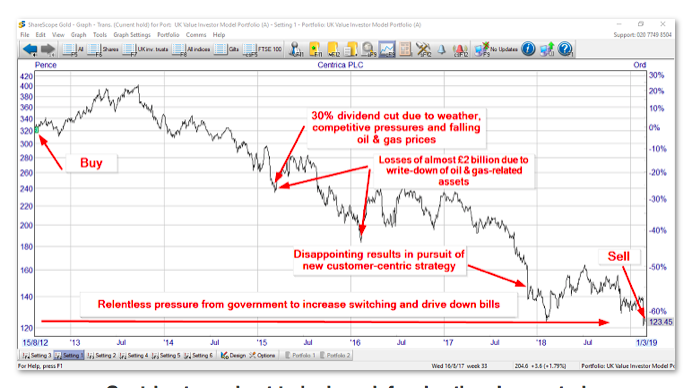 Centrica turned out to be less defensive than I expected
And here's a summary of the final results:

This is why a sensible portfolio is a diversified portfolio
Why I bought Centrica in 2012
Centrica joined my model portfolio and my personal portfolio at a time when the company was very much on the up.
Over the previous decade, Centrica's revenues per share had grown by an average of 4% per year while the capital employed in the company (representing assets such as gas-fired power stations, wind farms and British Gas vans) grew by an average of about 11% per year.
Perhaps more importantly, the company had grown its dividend progressively by around 14% per year.
For a FTSE 100 company operating in the defensive Gas, Water & Multiutilities sector that was an impressive rate of growth, which you can see in the chart below (showing the three key numbers I looked at back in 2012: total revenues, normalised earnings and dividends per share).
Earnings were lumpy but dividend growth was smooth
Along with this track record of impressive growth, Centrica was also available to purchase at what looked like an attractive price.
Its dividend yield was a very healthy 5%, which compared well to the FTSE 100's 3.8% yield. Given its above average growth record, the company also had a reasonable PE10 ratio (share price to ten-year average earnings) of 16.3, only slightly higher than the FTSE 100's 13.7.
Despite this alluring combination of consistent high growth and high dividend yield, Centrica and its share price soon found themselves headed into a long downward spiral.
Over the next few years, a combination of falling oil prices, increasing competition and regulatory change produced a 30% dividend cut, losses of almost £2 billion and earnings which are still barely above zero today.
This raises (at least) two questions:
(1) Was it obvious in 2012 that Centrica was about to run into these problems?
(2) Did Centrica face these challenges from a position of strength or weakness (since strong companies can often benefit from industry headwinds at the expense of weaker competitors)?
Regarding the first question:
I don't like to invest on the basis of what oil and gas prices may or may not do because they are too unpredictable. So falling commodity prices were not an obvious threat in my opinion. Anyway, I would expect Centrica to be able to deal with this via hedging, as managing commodity price volatility is a basic necessity of its business.
As for increasing competition, I would expect a strong company to benefit from this as weaker competitors lose market share first or exit the market completely.