"A railroad station? That was sort of a primitive airport, only you didn't have to take a cab 20 miles out of town to reach it." Reading through a recent Economist article discussing the runaway success of the Chinese high-speed rail network, I recalled this quote attributed to Russell Baker, the Pulitzer Prize winning New York Times columnist.
Reflecting on a year of intermittent covid lockdowns, I couldn't help but wonder whether the answer to managing the 'new normal' of distributed working would become much easier to find if we were to refocus our connectivity efforts on improved rail services, similar to China.
Looking through timetables and maps, I soon recognised both the incredible achievement of China and the potential for Europe and the US. Let's pick an example to illustrate this thought. The 2,100km (1,300-mile) journey between Beijing and Guangzhou in the south takes just eight hours, while the 1,300km (~800-mile) leisurely train ride across the EU between Bruxelles and Warsaw consumes 13 hours… on seven different trains. Travel.ing a similar distance by train between New York's Penn Station and Chicago takes at least 17 hours… on three different trains and a Greyhound bus.
What did the Chinese get right and to what extent can it be replicated in Western markets?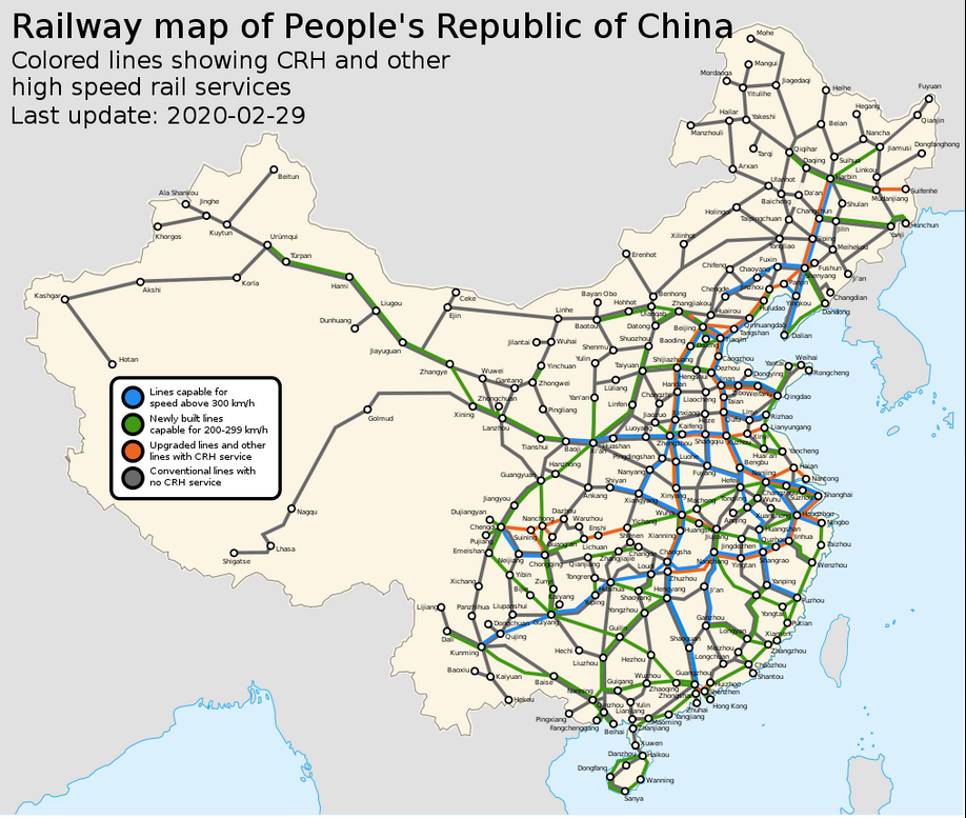 Source: Wikipedia
Let's take a step back and consider the scale of the achievement.
China has the world's largest network of high-speed rail lines with a total of 23,688 miles (38,122km). This represents 66% of the world's HS rail tracks. The EU has roughly 18,300km of HS rail operational, the US and the UK (HS1) operate 362km and 113km, respectively.
Initially the People's Republic of China's national rail plan envisaged a grid of four north/south and four east/west lines. Its first line opened in 2007 and now the national network operates 3,112 daily services, reaching all provinces except Macau. The country's latest national rail plan envisages a grid of ten north/south and ten east/west lines by 2035, doubling the HS network to 46,000 miles (74,000km).